Project Highlights
Property consists of approximately 320 hectares situated on the northern tip of the Serranía de San Lucas, considered one of the richest gold belts in Colombia, next to the Pueblito Mejia and Norosí Special Reserve Areas of Mining (ARE) with numerous active small-scale miners demonstrating the high potential of the area.
Surface samples collected by a Qualified Person in 2018 at vein exposures on the property returned up to 27.81 g/t Au, and several above 10 g/t Au (>0.30 Oz Ton Au).
Channel samples collected from the exploratory tunnel returned values up to 102.42 g/t Au and all averaged 38.91g/t Au
A 500-ton bulk sample was completed in September 2021 at the Santa Barbara tunnel which returned head grades with a weighted average of >24g/t Au on Vein #1 (Santa Barbara vein)
Channel samples collected at 1-meter intervals from the recently started exploratory tunnel on Vein #2 over an initial length of 18m returned values up to 60.12g/t Au and all combined averaged 31 g/t Au (1 Oz/ton Au).
In total, more than USD$1.5M was previously invested on the project since 2015 by previous operators including acquisition costs, permitting, compliance, infrastructure and mine development.
Overview
Property Location
Geology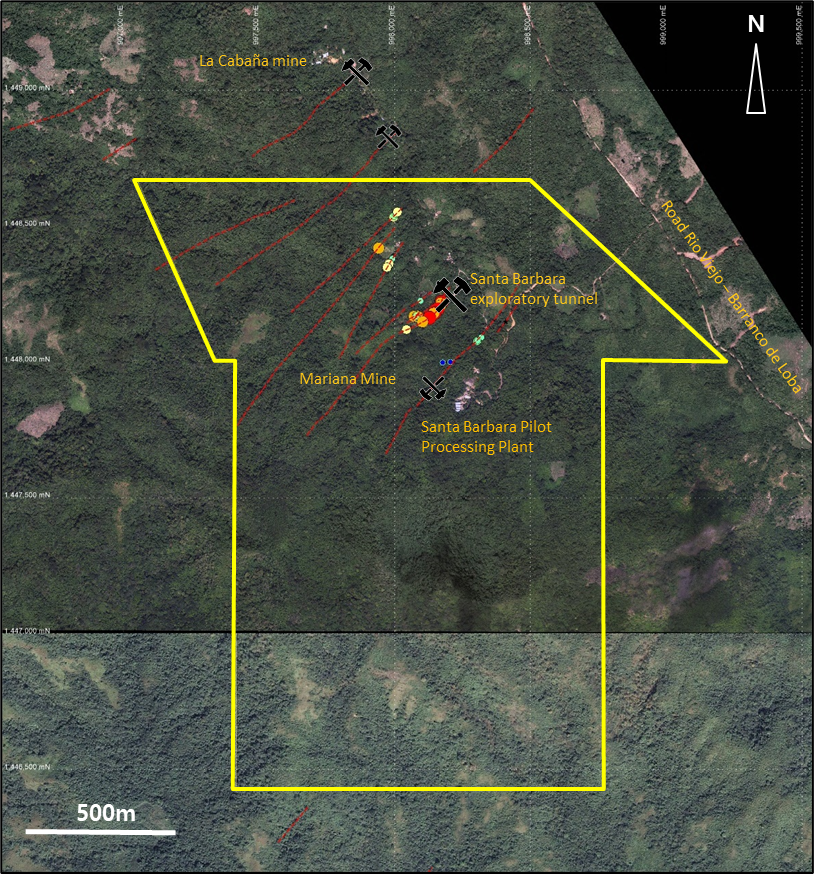 The principal exploration target is an orogenic, vein-type gold deposit hosted in the Precambrian, Chibcha terrane gneisses, modified intrusions, younger Proterozoic and Palaeozoic age sediments largely belonging to the San Lucas formation that underlie the property.
The veins in the property follow parallel NE-SW trends typically, and they are localized along splays off the main fault zones, along Riedel shears and bends, tension gashes within the main fault zones, or at points where the main fault zone is intersected by oblique angled faults.
They are comprised mainly of variable amounts of pyrite, sphalerite, galena, chalcopyrite and gold in a gangue of quartz and carbonate.
Santa Barbara Project Map including principal vein traces identified on the property.
Work Performed
In 2018, seven gold-bearing veins were examined and sampled, and several more were discovered during successive property visits. Assay results returned up to 27.81 g/t Au, and more than 50% of the total number of samples returned above 10 g/t Au (>0.30 Oz Ton Au).
Based on observations of mineralised exposures, artisanal diggings/pits, tunnels and adits, individual veins have estimated minimum observed lengths of 50 metres and to >400 metres. They are generally parallel, trending from 020o to 060o, and overall steep to sub-vertical dips. Vein widths may reach 0.5 metres, but veining does pinch and swell, and in some cases, splits or branchiates.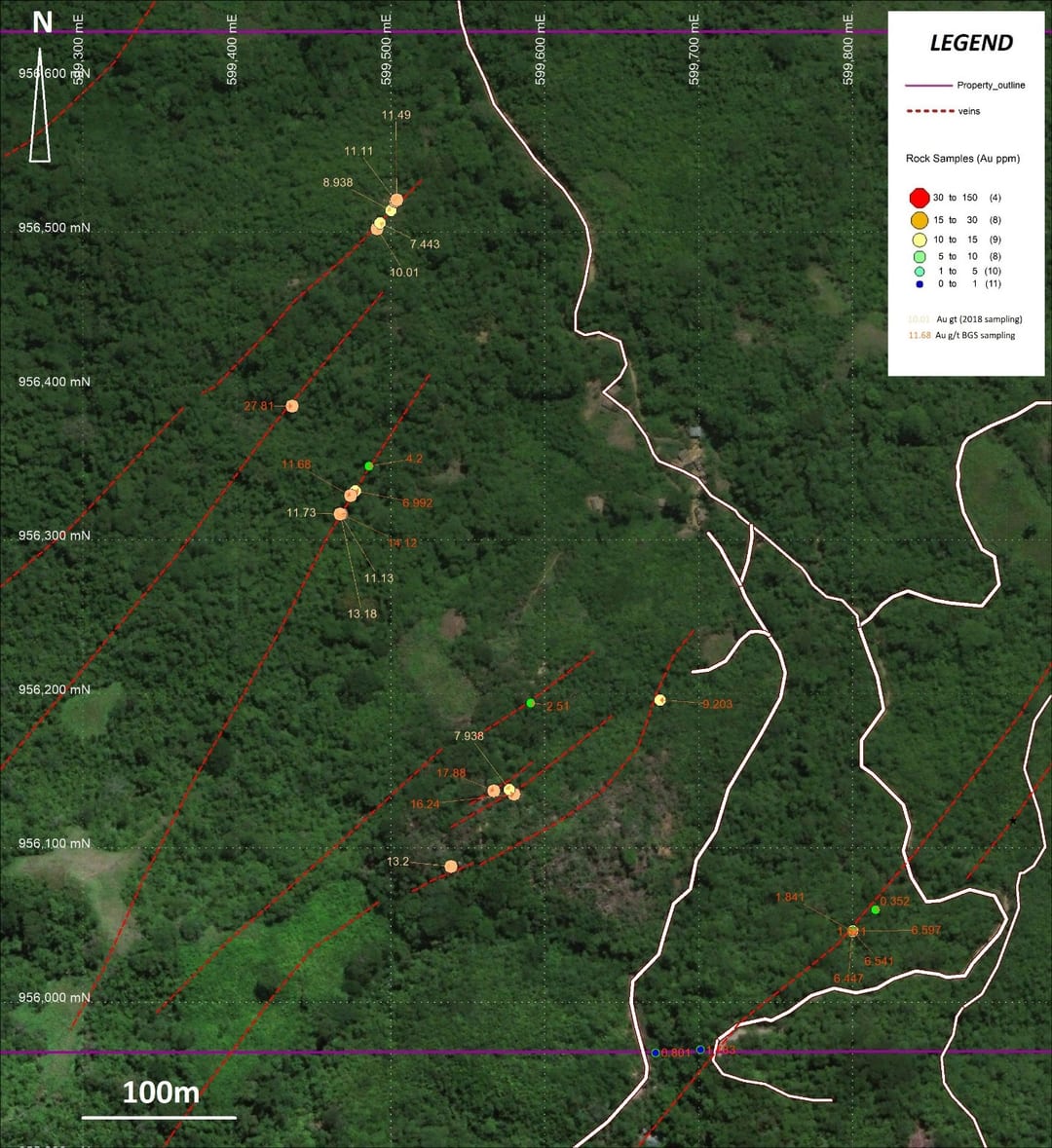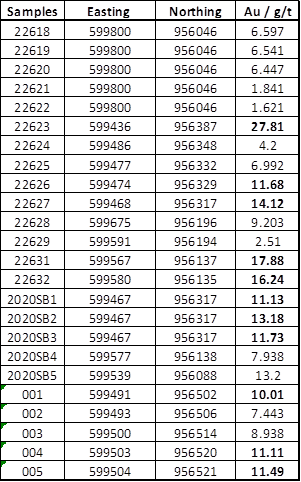 The tunnel mapping and sampling notes the variability of gold values in punctual locations along the veins, ranging in Vein #1 from 102.42 g/t Au in the higher end to 15.74 g/t Au in the lowest end. In Vein #2 channel samples collected from the new started exploratory tunnel over an initial length of 18m returned values up to 60.12 g/t Au and all averaged 31 g/t Au (1 Oz/ton Au). Both veins range between 10cm and 35cm wide, locally reaching up to 50cm in width, and this can be extrapolated to the rest of the veins identified on the property. Veins are characterized by a gangue of quartz, and minor carbonates (Calcite, Mn-Calcite), chlorite and sericite. Sulphides range from 10% to almost 80%, with pyrite being the dominant sulphide (>50% of the total sulphide content)) with variable amounts of galena, sphalerite and chalcopyrite. Gold to sulphides ratio seems to be conspicuous along the entirety of the vein.
Bulk Sampling
The mineralized material extracted from Vein #1 during the years 2020 and 2021 was part of a large bulk sample started by previous project operator, Malabar Gold Corp designed under the supervision of a Qualified Person and completed by Baroyeca.
Santa Barbara 500 ton bulk tunnel and sampling process
The exploratory tunnel was designed to enable blasting and splitting of the vein from the waste host rock for subsequent collection and pre-concentration of higher-grade mineralized material at the mine portal. This material is then bagged, with each bag being weighed individually until an approximate 10 Ton batch is completed. Bags are randomly scrambled while stockpiling, loaded and discharged for homogenization purposes in the following crushing and milling processes. The batch is then run through a crushing and milling circuit to a cyanide leaching tank. There are no losses of material in the circuit. The pulp is considered homogenized after the process and a head sample is taken from the tank before being washed to remove clays and oxides prior to cyanide leaching. This sample can be considered representative of a head grade. Gold is precipitated by agitation adding zinc powder and smelted for every batch individually. Head grade assay results are cross referenced with gold pours to determine efficiency in plant recoveries as part of the metallurgical testing and to facilitate future improvements of the processing plant to increase processing capacity. Preliminary processing methods are currently producing about 90% gold recovery with >98% gold purity.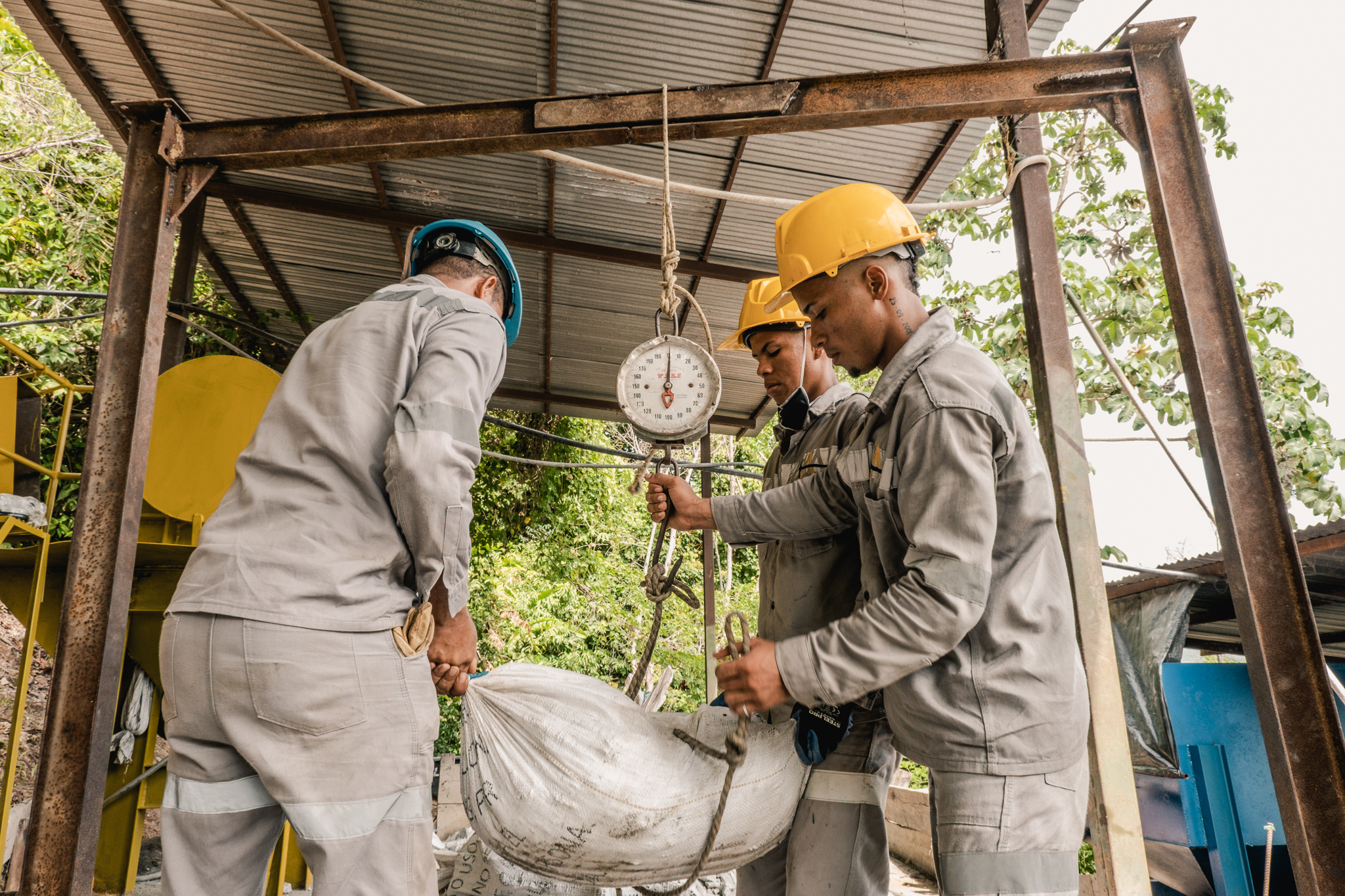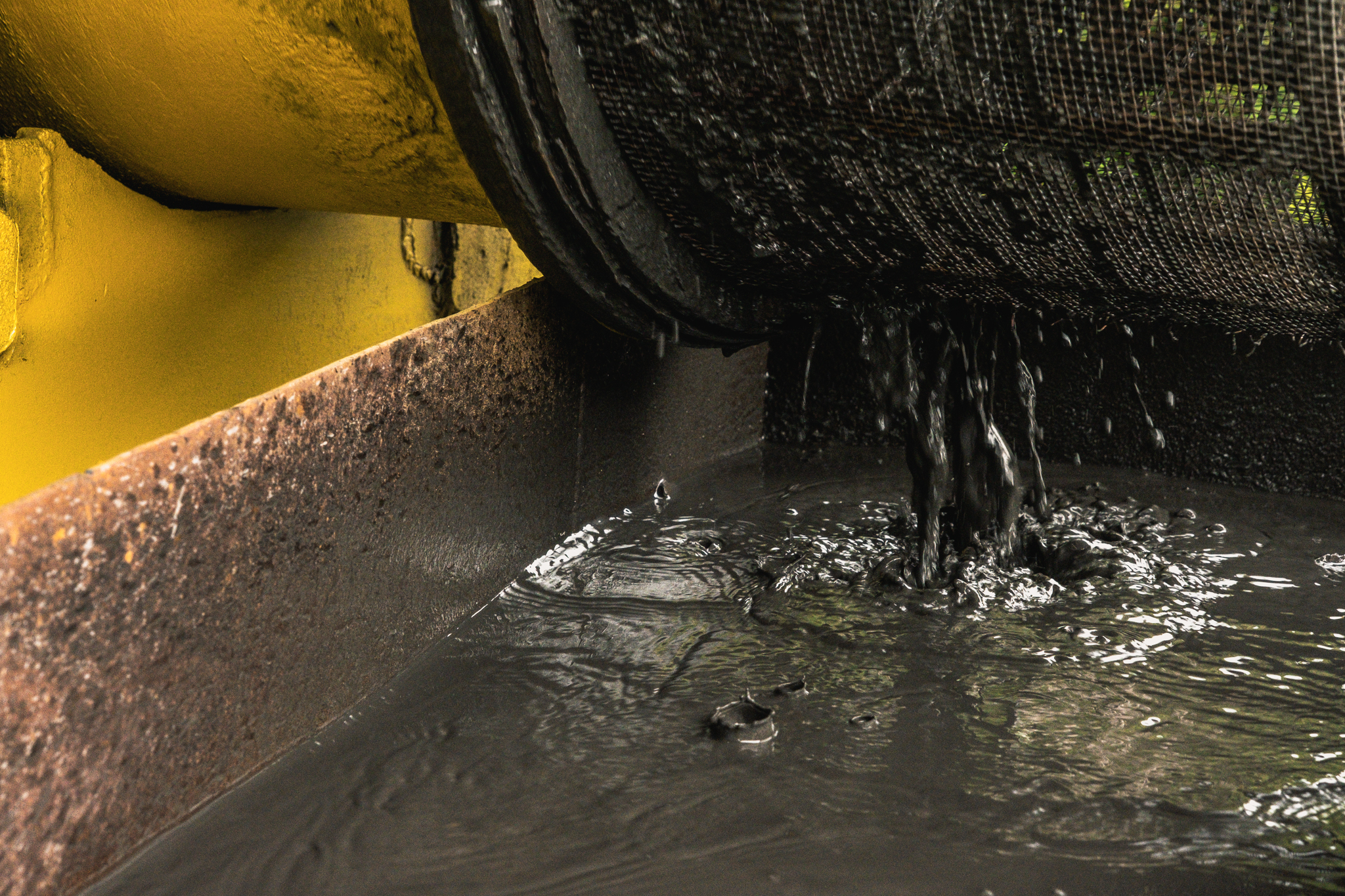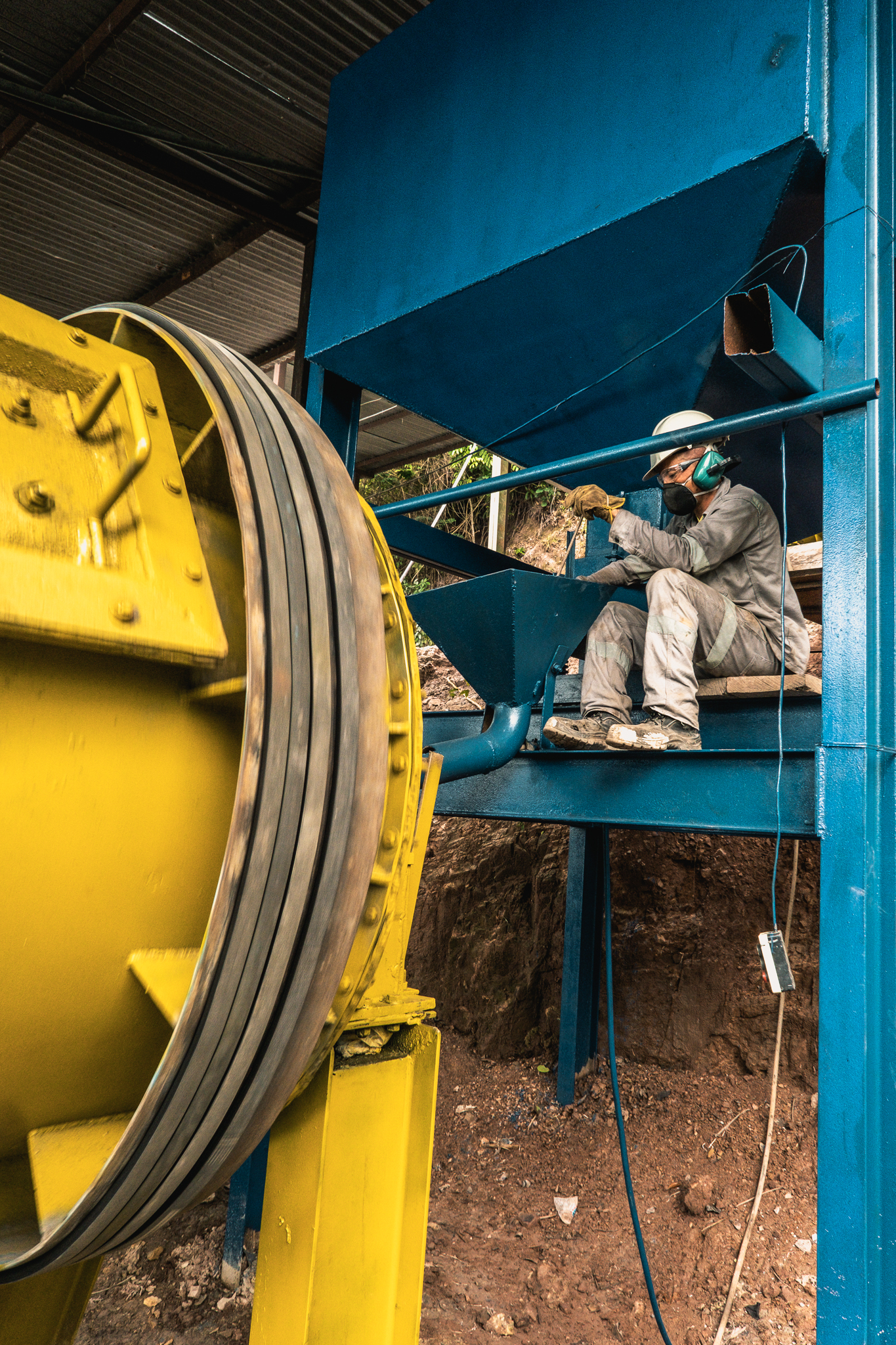 Qualified Person
The scientific and technical information has been prepared in accordance with the Canadian regulatory requirements set out in National Instrument 43-101 (Standards of Disclosure for Mineral Projects) and reviewed and approved on behalf of the Company by Raul Sanabria, MSc. P.Geo. a Qualified Person as defined by NI 43-101 (the "Qualified Person").