All exploration from 2012 to 2014 was carried out by Condor Precious Metals Inc. A series of Ag-(Au)-polymetallic veins were discovered by Condor geologists prospecting in the north-west corner of the property/ Vein exposures noted in creeks are predominantly ENE-WSW oriented, with sub-vertical dips, and hosted in dark grey weakly chloritic and/or chlorite-graphite schist within more quartz rich sediments.
Highest grades were obtained from sampling of the Veta Grande East, on the eastern side of Socorro creek. A series of chip samples were taken in three exposures of the vein and individual samples returned gold values as high as 14.65 g/t Au and 1,370 g/t Ag, 14.20 g/t Au, and highest silver values of 3,480, 2,300, 1,955 and 1,570 g/t Ag.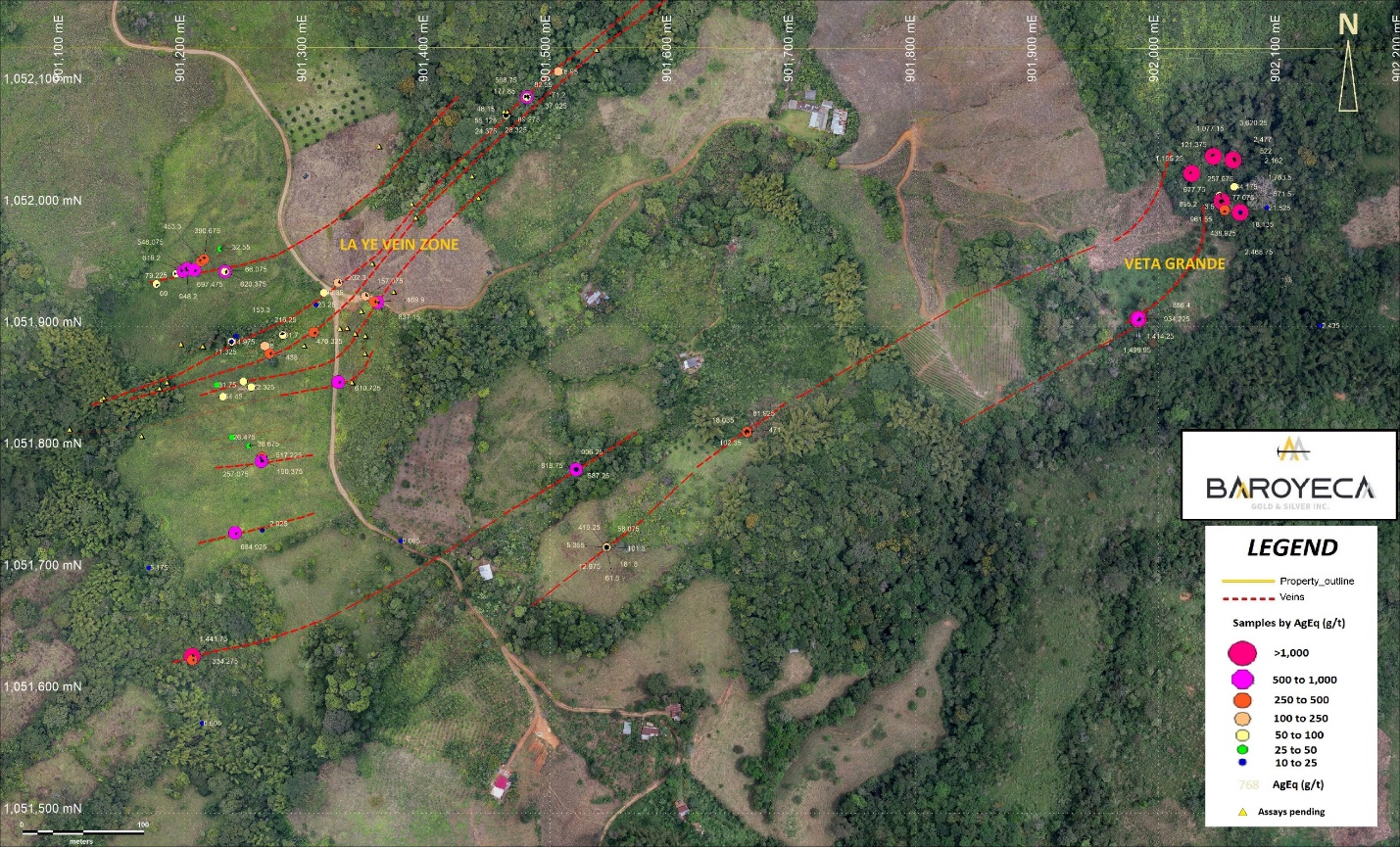 Veta NW is exposed in a tributary creek about 100m outside of the western side of the property boundary. Results from this outcrop are bonanza grade (up to 9 g/t Au and 1,030 g/t Ag, 19.9 g/t Au and 311 g/t Ag, 7.10 g/t Au and 525 g/t Ag and 7.49 g/t Au and 178 g/t Ag) and the vein shows fragments at least 0.6m thick. The vein within the property boundaries is covered by a thick gravel deposit that prevented additional sampling.
Several series of channel samples were taken from 'La Ye' vein and individual samples returned gold values as high as 2.09 g/t Au and 412 g/t Ag and 3.96 g/t Au and 141 g/t Ag. Work focused on La Ye vein zone by BGS included systematic mapping and structural interpretation from Lidar imagery and DEM that proved the existence of a major structural deformation corridor with an associated vein system. The primary vein system at La Ye is comprised of at least 6 major veins and several smaller associated veins covering a strike length in excess of 500m, open in both directions. Mapping has been possible due to the existence of a vast number of exposures and outcrop occurrences and the first batch of rock chips collected at outcrops and sub-outcrops average 182 g/t Ag (or 304.4 AgEq).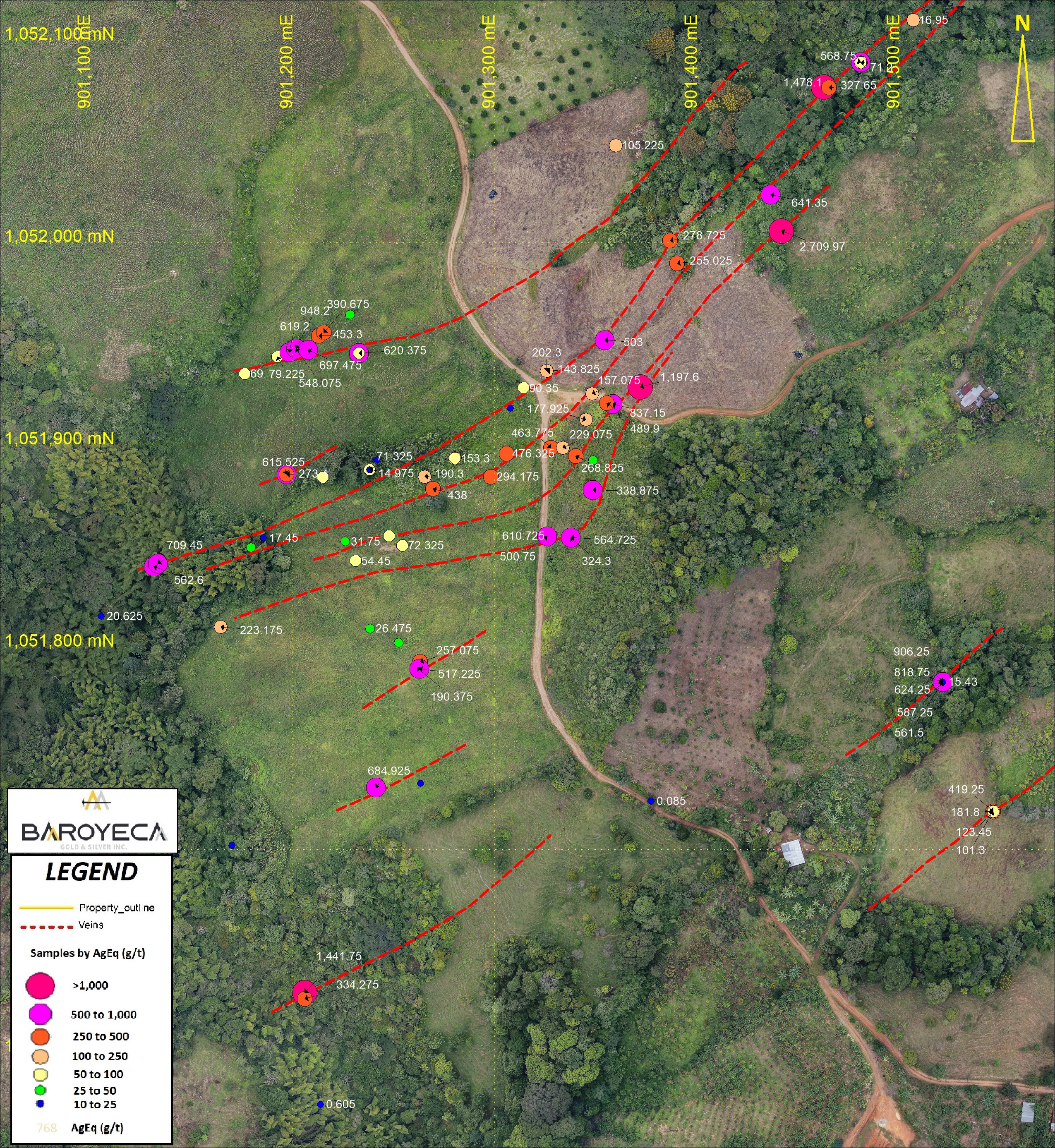 Two parallel channel samples were taken of the Tavera vein, over an averaged 1.85 m interval, returned 5.20 g/t Au and 66.78 g/t Ag. The best intersections were 0.4m at 14.8 g/t Au and 217 g/t Ag, 0.4m at 9.67 g/t Au and 80.6 g/t Ag, and 0.4m at 5.11 g/t Au and 151 g/t Ag. Individual samples taken at the Tavera zone returned gold values as high as 14.8, 9.67, 5.11 and 4.9 g/t Au, and 217, 151 and 97.1 g/t Ag. A series of sub outcrops were found west of the Rancho Grande vein occurrence returned high-grade silver assay results with anomalous gold values (up to 969.3, 726.5 and 658.4 g/t AgEq) in grab samples extending its trend for more than 1km along strike.
La Esperanza vein crops out in a tributary West of the Santa Agueda creek, about mid-slope. The vein is exposed for about 15m, has an average 0.5m to 1m thickness, is shallow dipping (45°), and quite weathered. One sample returned 12.75 g/t Au and 74.30 g/t Ag. Fragments found downstream have good fresh textures and elevated sulphide content. There is another poor exposure along strike towards the West in a creek parallel to Santa Agueda, where float material has well-formed textures and mineralisation.
Baroyeca identified two new vein zones named EL Erizo and Perrika in 2020, where rock ship samples returned silver values as high as 951, 839, and 691 g/t Ag for the first and 5.70 g/t Au and 696 g/t Ag and 6.91 g/t Au and 510 g/t Ag for the second. El Cucharo vein was also found in 2021 returning high gold values (17.59, 15.01 and 10.89 g/t Au) and 217.6, 187.2 and 168.t g/t Ag. Other veins found include several parallel sets to known veins, such as El Arroyo vein, the extension of the Tavera-Las Guaduas vein set at Santa Agueda creek, Veta Blanca and several vein sets at the Jimenez Creek in the NE part of the property that are currently being evaluated and samples being sent to the lab for gold and silver assay results. The veins show an inferred strike length of at least 500m to >1,000m as inferred from outcrop, vein float and rubble, and historic workings.
Baroyeca Gold and Silver believes the Atocha project is the most prospective high-grade silver-gold exploration project in the Santa Ana-Frias-Mariquita historic colonial silver district, and that the project potential is significantly enhanced by the recently recognized high-grade gold zones in veins. Historic colonial mining records, and limited historic drilling and high values in rock samples all indicate exceptional potential for the Atocha project.
Exploration activities proposed for 2021 will consist of surface detailed structural mapping, trenching and soil geochemical sampling directed to gather further information to confirm the extent and number of veins present, their widths, structural controls, ore shoot characteristics, geochemistry and alteration. The collected data will be used to better define drill targets for an approximate 10,000 meter drill program during Q3-Q4 2021 extending into 2022.
Alongside this work, Baroyeca will work with the local communities and authorities to promote awareness of the project and promote inclusion of all stakeholders, fostering collaborative work that will generate mutual benefits for the company and the local communities.
2012-2021 Gold and Silver rock chip sample results Atocha Project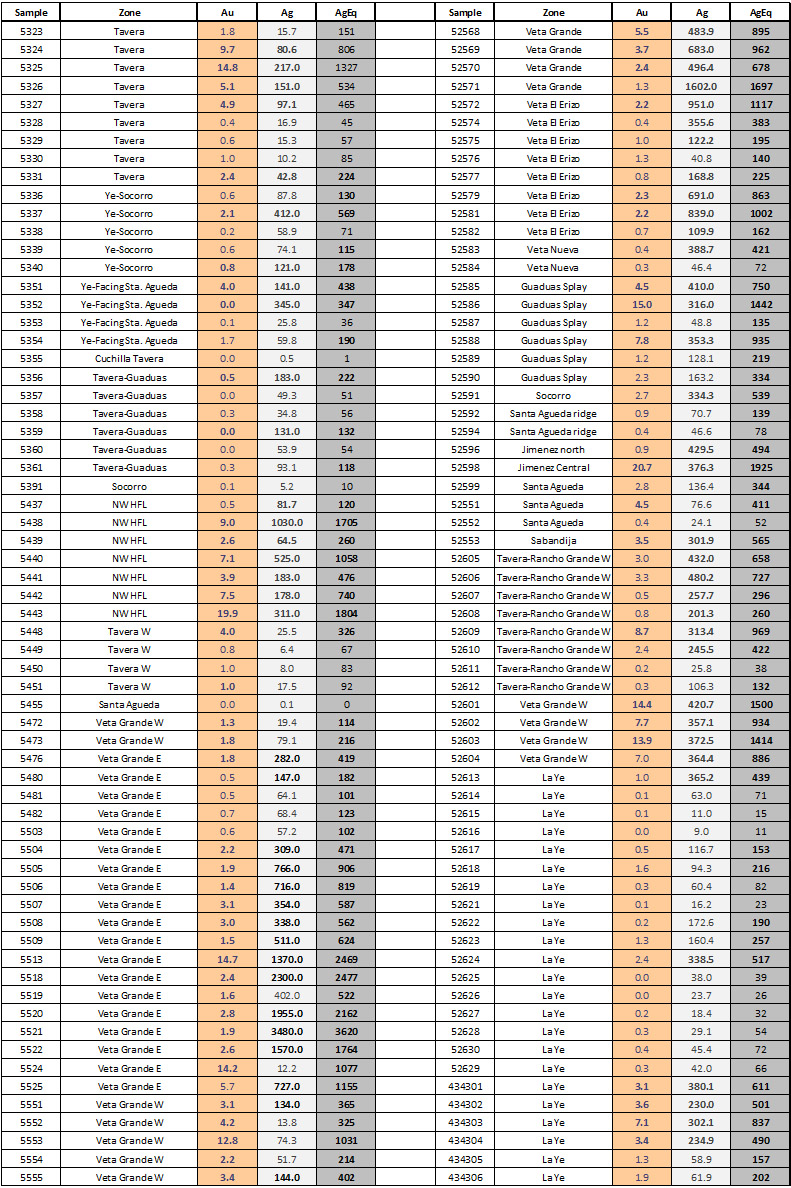 [AqEq converted using a silver to gold ratio of 75:1 at recoveries of 100%]